Newsletter | Summer 2023
Looking back and moving forward!
When I reflect on the American Population Panel's milestones, one word comes to mind: Wow! With many new projects in different stages of development, the APP has seen considerable growth as a research tool. It has also provided more and more opportunities for panel members to take part in a variety of research studies.
In this past year, some of our study topics have inquired about fatherhood in America, connected panel members with Congressional representatives, and measured the social dynamics of adult single life. The surveys we develop continue to investigate a broad mix of life experiences that are unique to our American-focused panel.
Thank you for the enthusiasm you've shown in participating in our studies. We appreciate each of you! And we look forward to reaching (and celebrating) many more milestones ahead.
–Jenifer Hoffman, APP Program Director
APP round-up: Making a difference
Researchers from different fields have gained new insights into their work by surveying APP members. Each APP survey has its own unique set of criteria and questions that help researchers learn more about the attitudes and behaviors of a particular target audience. On the flip side, the APP provides members with opportunities to share their opinions on a variety of topics, while giving voice to the experiences of everyday Americans. Below are a few examples highlighting APP-related research.
Central Ohio residents share their input while Leaders Listen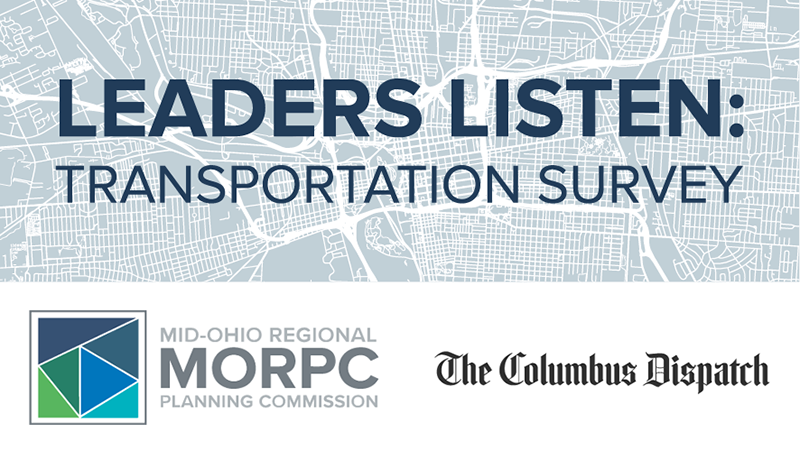 The Leaders Listen Series is a set of short surveys produced by the Mid-Ohio Regional Planning Commission (MORPC). The series periodically invites Central Ohio APP members to share their input on programs, services, projects, and initiatives that help improve the quality of life. The first survey in this series, co-sponsored by The Columbus Dispatch, asked Central Ohio residents about transportation related experiences and services in the region. Results from the survey, which included both APP members and non-members, found
Regional commuting
90% of respondents said passenger rail would be moderately to extremely helpful.
Walk-ability
56% find it inconvenient to walk to work. Additionally, 44% find it inconvenient to walk for errands.
Bike-ability
46% find it inconvenient to bike to work. Additionally, 40% find it inconvenient to bike for errands.
Top 3 barriers to buying an Electric Vehicle (EV)
1) Purchase price,
2) Access to EV charging, and
3) Battery replacement cost.
Read more about the Leaders Listen: Transportation Survey in MORPC's State of the Region report and The Columbus Dispatch article, Our view: 'Inadequate, antiquated or nonexistent.' People deserve better ways to get around.
---
IDEA hosts town hall with constituents and Congressional representatives

This past fall, the Institute for Democratic Engagement & Accountability (IDEA) at The Ohio State University partnered with the Select Committee on the Modernization of Congress (SCMC) to learn what Americans thought about ideas for improving Congress. IDEA invited APP members to participate in one or more Connecting to Congress surveys and a deliberative town hall. The town hall was a success in that:
Participants enjoyed the ability to engage in a meaningful, substantive, and thorough conversation about important issues and it made them feel that their voices were truly being heard, which is often not the case with other forms of constituent engagement. Forums that allow [Congressional] members to engage and deliberate with representative groups in a structured format can provide members with a more accurate picture of constituent opinion, which, in turn, can help them as they develop policy. Cited from: With events in Washington, IDEA workshops help spread and improve democracy (Ohio State College of Arts and Sciences News).
---
NSASS study referenced in national media
One of the first surveys administered in the early days of the APP was the National Sports and Society Survey (NSASS). The NSASS gathered information about sports-related attitudes and sports participation experiences from almost 4,000 U.S. adults. The data collected continues to be a wealth of information for Ohio State professor Dr. Chris Knoester and his colleagues who have used the survey results to examine topics like sports fandom and the intersection of sports and politics.
In January of this year, NSASS research on public attitudes regarding tackle football was highlighted in national media after NFL player Damar Hamlin went into cardiac arrest during a Monday Night Football game. The 2022 NSASS article, When Kids Hitting Each Other Is Okay: Examining U.S. Adult Support for Youth Tackle Football, co-authored by Ohio State PhD candidate Mariah Warner and Dr. Chris Knoester, was the basis for some of the media coverage. Warner and Knoester appeared on WOSU's All Sides with Ann Fisher and wrote an op-ed for The Columbus Dispatch discussing the topic in light of Hamlin's injuries.
Additionally, their work was referenced in a Vox analysis, mentioned in a conversation on The View (YouTube), posted in an article by The Hill, and referenced by other media outlets participating in the discussion. NSASS research supplemented a national debate about tackle football that was made possible by APP members sharing their insights just a few years earlier. For a list of research publications using NSASS data, visit the NSASS website.
---
Higher Education study publishes results
In the fall of 2019, Ohio State professor Dr. Stephen Gavazzi worked with the APP to survey panel members in six states: Ohio, West Virginia, California, Florida, New York, and Texas. The Higher Education Survey focused on people's political attitudes and their views of higher education. Using the survey results, Dr. Gavazzi and his co-author, WVU President Dr. E. Gordon Gee, published some of their findings in the 2022 journal article: Everything Universities Wanted to Know About Public Opinion (but Were Afraid to Ask).
The authors found agreement amongst respondents of varying political beliefs on how public universities should spend tax-payer dollars. Survey participants supported 50 percent of funding being allocated toward teaching and the remainder split evenly between research and community outreach programs. While the results were not nationally-representative, the ability to ask APP members living in specific states informed the authors on how to expand the study for future research on the topic. If you'd like to learn more about the survey and how the APP played a role in the study, visit the Sage Journals website to access the full article.
---
Family Forms Survey and using the APP as a research tool
The Family Forms Survey was developed and fielded as part of the APP's Tell Us What You Think Mini Survey series in 2020/2021. The Mini Survey format consists of a few targeted questions that provide researchers with data for pilot studies, seed grants, and data for student thesis and dissertation projects. This particular survey was authored by Utah Valley University assistant professor Dr. Rachel Arocho who studies people conceived by and families formed using medically assisted reproductive services such as IVF.
With the help of student researchers, Dr. Arocho first presented the survey results at the 2021 Population Association of America (PAA) conference in a poster session and, more recently, published an article titled: Family Forms Survey: Identifying Donor-Conceived Offspring, Donors, and Recipients in a National Panel. The data collected from APP members helped assess how familiar the public is with donor-conceived terminology and demonstrated whether a national panel like the APP could be used to study individuals who have used or were conceived with fertility treatments. To read more about the Family Forms Survey results, visit the Survey Methods website to access the full article.
Help us help the common good!
As the APP continues to grow, we seek panel members of different backgrounds and life experiences to participate in our surveys. If you find yourself asking, "Why should I participate?" the aforementioned studies are just a few examples of panel members making a difference and having their voices heard!
What do our panel members think of our surveys?
"I enjoyed this survey. It got me thinking more about these things that I never really thought much about before."
—30 year-old panelist, Higher Education Survey
"I enjoy taking part in all the surveys. It's been important that you hear from folks who are not mainstream in their views."
—68 year-old panelist, Military Service Survey
This was the first one I had the opportunity to complete. It really made me reflect on our community as I was answering the questions."
—59 year-old panelist, Well-being Survey
"I really enjoy surveys about society, as well as sociology in general. I believe it is essential to have surveys like this where people can be honest because others are not critiquing them or looking at their answers."
—28 year-old panelist, Thoughts on Immigration
"Thank you for the research you're conveying on a topic that needs to be generalized more in public education."
—30 year-old panelist, Climate Change Survey
Panel frequently asked questions and how to connect with us
While our panelists provide insightful answers to the surveys we field, they also ask good questions of our staff! Here are a few panel member inquiries that others might find helpful:
Why do I receive non-APP survey announcements?
From time to time, we learn about research participation opportunities offered by other institutions. We evaluate these opportunities and, if they meet our standards, we may pass along the invitations to our panelists. In these instances, the research is not affiliated with the APP and panel members are not obligated to take part. We recognize that our members are interested in a variety of research topics and would like to share these additional opportunities with you.
Why does it take so long to receive my incentive when I complete a survey?
The APP is made up of a small group of staff who handle many of the day-to-day tasks of the panel, such as programming the surveys, creating invitations to participate, and yes, making sure each survey respondent is compensated for their time. As part of
CHRR at The Ohio State University
, we have a strict data security and audit process that we follow. This can take extra time, particularly when we have a large group of survey participants.
Why don't I get invited to participate in more APP surveys?
As a large national panel, the APP offers researchers different subgroups for their studies. For instance, if a researcher needs data from Texas, we can send survey invitations to our Texan panel members. Or maybe researchers are looking for parents who are in their 40s, or high school graduates who are males. Sometimes researchers may want a wide range of respondents but perhaps only need a total of 500-1000 participants. In those cases, we randomly select a small subgroup of our panel members and send out recruitment invitations to those potential respondents. The good news? We're getting more and more inquiries from researchers interested in using the APP for their projects. That likely means more opportunities for you to participate in future studies!
Additional information can be found on our FAQs page or contact us with your question for a response from the APP team!
Contact the APP
Email: panel@appanel.org
Text: 69493 or 844​-286​-6400
Call: 866​-448​-6075