03 Newsletter | Spring 2018
As a member of the American Population Panel,
you will be asked periodically to participate in research studies. The APP is not a marketing panel and will not sell or share your personal information, it is simply used to match you to different surveys.
The time between surveys depends upon the number of surveys we field and whether your demographic information matches survey requirements. It is not uncommon to go several months without receiving a survey.
Once you have been matched with a particular study, you will be notified with instructions for completing the survey and how much the survey will pay. It is your option whether or not to participate in a chosen survey. You may also opt out of the panel at any time.
If you have additional questions, please contact us at: panel@appanel.org or 866-448-6075.
We've been asking panel members about a variety of topics. Here are a few things we've learned:

92.3% of APP members reported that they have health insurance, while 7.7% reported they did not.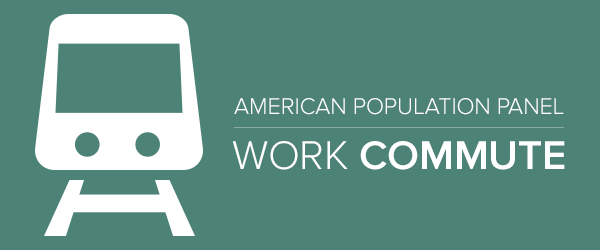 When describing their work commute, 4.1% of APP members said they live close enough to walk to work; 0.4% bicycle to work; 6.2% take public transport; 1.3% carpool; 42.5% drive their own car; 11.5% work at home; and 34% reported that they weren't currently working.

43.2% of APP members reported that climate change was very important; 35.6% reported that it was important; 12.9% said it was not very important; and 8.3% said it was not important at all.

5.8% of APP members said they eat out most of the time; 6.5% bring takeout home; 17.6% eat quickly, like prepackaged meals; 59.4% love to cook meals from scratch; 6.5% have kids so they make kid friendly meals at home; and 4.2% said their family was so busy, they each eat something they can grab on the go.

46% of APP members said they are a morning person, up early to greet the day; 7.7% said they were a night owl, just getting started at midnight; 11.6% said they work shifts, so they're up mornings and nights; 11.6% said they were retired and can get up or sleep late as they please; 3.2% said they were home taking care of their kids, they are 24/7; and 19.9% said they were not working, I can do whatever I want.
REFER-A-FRIEND
We're looking for panel member number: 10,000
The 10,000th member to join the panel will receive a $50 Amazon gift card.
If you're the friend who referred the 10,000th member, you too will receive a $50 Amazon gift card!
To submit a referral, email us at: panel@appanel.org or login to your member account and fill out the referral form.